VW is celebrating 45 years of the Golf GTI with a new Clubsport special edition. It's set to go on sale in the UK from April 2021 and will cost less than £40,000.
Special features for this snappily titled 'Golf GTI Clubsport 45' model include a homage to the original Mk1 Golf GTI in the shape of a black rear spoiler – which VW says nods to the original's black-framed rear window.
It also receives bespoke 19-inch black alloy wheels, while up front is red pinstriping similar to that of other GTI models.
The same 297bhp four-cylinder turbo engine as the 'regular' Clubsport powers the front wheels.
Volkswagen's 'Race' package comes as standard. This includes an Akrapovic exhaust system, derestricting the 155mph speed limiter, and adds LED matrix headlights.
Inside a GTI motif is stitched into the front-seat backrests and a '45' badge is found on the bottom of the steering wheel.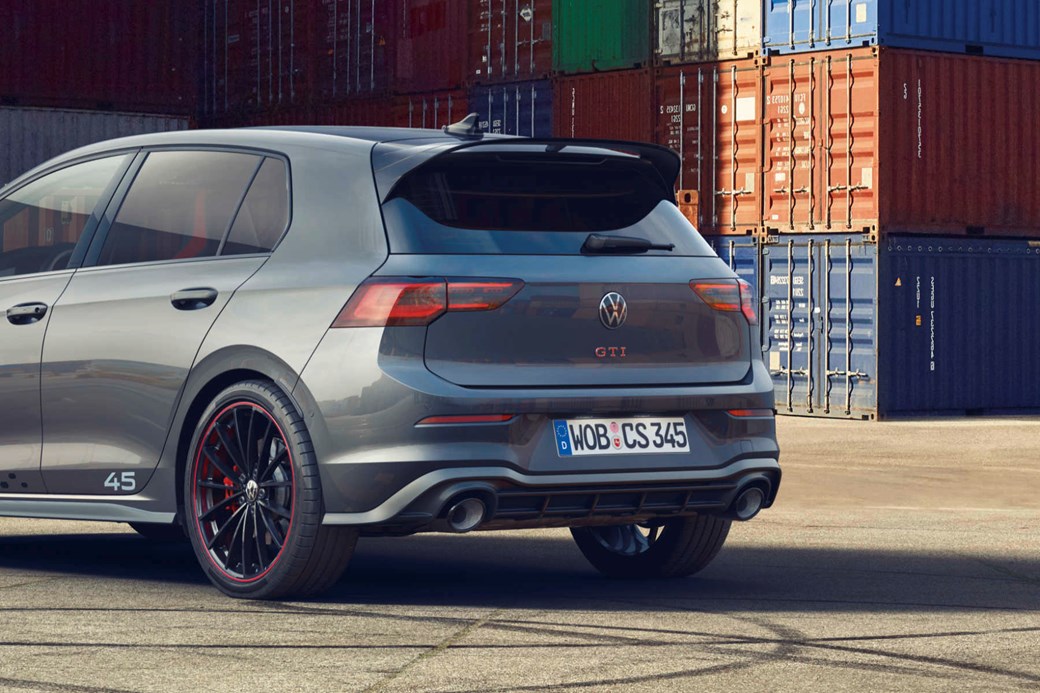 Who's this for?
If the regular Clubsport is for hardcore GTI fans, this special edition is for the real anoraks out there.
Volkswagen reckons 'Extensive individualisation makes the Clubsport 45 a ready-made collector's item, even as new.'
It won't be made in limited numbers, and will be offered in right-hand drive.
Serial VW nerds will remember that VW has offered limited-edition GTI models every five years since the Edition 20 in 1996.
45 years you say?
Yes. Even in the UK. The Golf GTI Mk1 was first launched in Germany the summer of 1976.
Interestingly, some left-hand-drive 'pathfinder' models came to the UK in 1976 too. But it took until 1979 for Brits to get right-hand-drive cars.
Everything else you need to know
► New 2020 VW Golf GTI
► Debrief on regular and Clubsport
► Which one takes your fancy?

The Clubsport name returns to VW's Golf GTI. This harder and more powerful variant of the Mk8 Golf GTI is the hot hatch's new flagship, and it starts at £37,215.
VW says this new GTI Clubsport sits between the first GTI Clubsport launched in 2016 and the hardcore, stripped-back Clubsport S but, unlike either of those, this isn't a limited-edition model. Why so soon after the standard Golf GTI was revealed? Spokesperson Bernd Schröder says VW 'waited too long' with the last Clubsport model and didn't want to upset GTI fans this time around.
Wolfsburg's engineers have gotten properly nerdy with this new Clubsport model, refining and upgrading the regular GTI into a track day weapon that can still handle the city streets.
Looks suitably racy…
And it has performance applications, too. The front apron, Clubsport-specific rear splitter and two-tier rear spoiler reduces uplift front and rear, the suspension is 10mm lower than the regular GTI and it comes with two fat oval exhaust pipes (instead of the standard GTI's normal circular ones). VW says you'll be able to specify an Akrapovič exhaust at a later date.
Even as a track-honed, higher-performance GTI, the Clubsport includes some decidedly road-friendly features such as Car2X communication, adaptive LED headlights and level 2 driver assistance (lane keeping and adaptive cruise), as well as the full digital dashboard and infotainment system you get in a higher specification Golf; the ArtVelours seats, however, are unique to the Clubsport.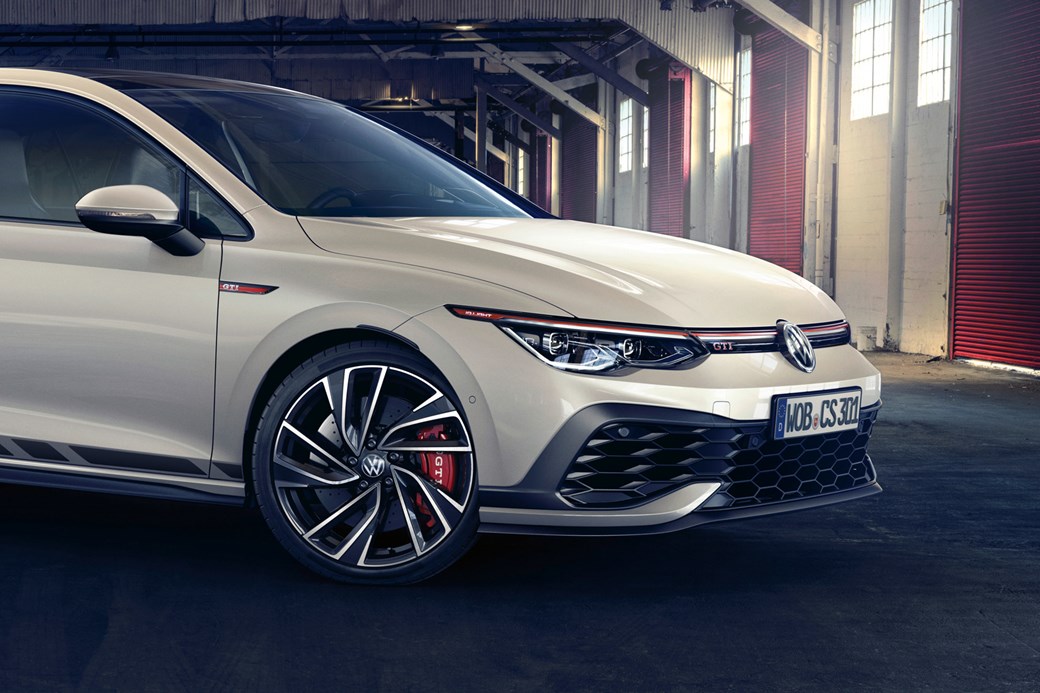 The Clubsport rides on 18-inch wheels as standard, 19s as an option. Inside, the Clubsport gets bespoke seats and trim.
Any more nerdiness?
Oh, plenty. The GTI Clubsport uses an 'Evo 4' version of the perennial EA888 2.0-litre turbo that, in this tune, makes 297bhp and 295lb ft of torque sent via a seven-speed DSG to the front wheels. Performance specs aren't nailed down yet, but VW says the Clubsport is capable of a sub-six second 0-62mph sprint and a top speed of 155mph.
The regular GTI's clever front axle differential lock is mixed with a specific, progressive steering tune and larger Clubsport brakes for a sharper but more neutral handling balance.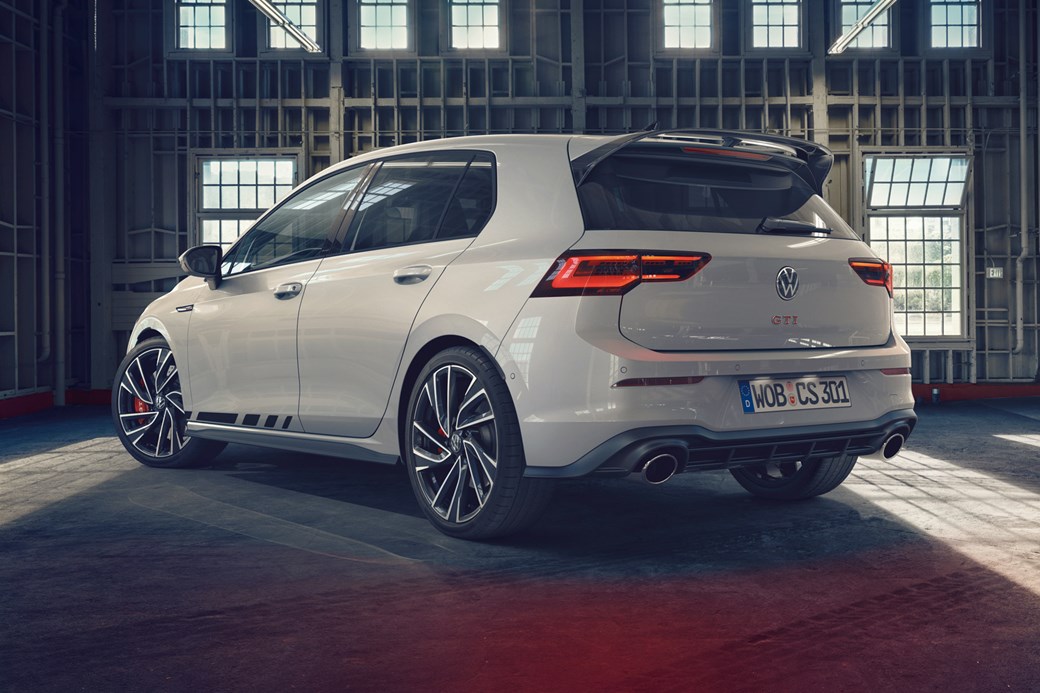 All of this adds up to a two-second quicker lap time around VW's Ehra Lessain handling course over a regular GTI, and a 7m 54sec lap around the Nordschleife (compared to 8m 7sec for the standard version).
Anything else I should know about the Clubsport?
VW's engineers have included a special drive mode in the vehicle dynamics manager. While it's officially marked as 'Special' on the mode selector, it preps the car for a thrashing at the banked, uneven, cambered and coarse Nurburgring circuit. The optional adaptive dampers are softer here than they are in Sport mode, but every other facet of the car is on maximum attack.
'This new configuration therefore provides us with better contact with the track,' says vehicle dynamics manager, Benjamin Leuchter, 'As a result, the Special profile makes it possible to drive a good deal faster on the Nordschleife than in the Sport profile.'
Want one? They're available to order from December 2020; UK deliveries should see the first ones arrive in early 2021; it's worth noting that for £2,055 more the all-wheel drive Golf R is within your reach.
Keep reading for more on the standard GTI.
---
VW Golf GTI: the CAR lowdown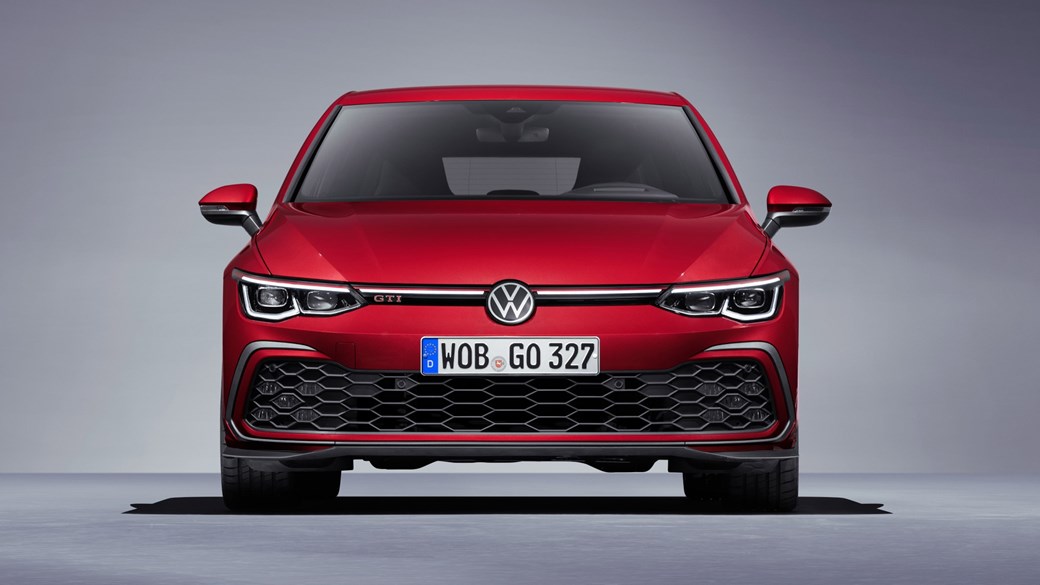 The 2020 Volkswagen Golf GTI has finally arrived – the most important model in the brand's performance portfolio, the evolution of a hot hatchback icon and a paragon of affordable performance since 1975.
No pressure whatsoever, then, on this 2020 VW Golf GTI model.
The GTI (petrol) has been unveiled alongside its GTD (diesel) and GTE (petrol plug-in hybrid) siblings, all three of which will go on public display for the first time at the 2020 Geneva motor show in March.
2020 GTIs promise to be a little bit quicker, more responsive, and even more premium than the cars they replace, effectively straddling the gap between more affordable hot hatchback such as the Ford Focus ST or Hyundai i30 N and a high-end competitor such as the Mercedes-AMG A 35 or Audi S3. Just like all of those cars, the Mk8 Golf GTI is five-door only.
Best hatchbacks you can buy right now
For once, though, there's some rather less subtle styling differences that will mark out the GT triplets from their cooking cousins. You'll still find classic touches such as tartan seats and red pinstriping, but optionally available is a unique lighting signature for the front made up of a full-width LED element across the grille and Clio RS-style chequered-flag foglights inserted into the honeycomb lower grille.
Both of these are to be found on the optional equipment list, though, so buyers will still be able to fly under the radar bearing only subtly reshaped bumpers and diffusers plus a rear roof spoiler.
Slightly puny 17-inch rims come standard, but you can option these up to 18- or 19-inches.
What about inside?
It's all swoopy screens and touch-sensitive controls in here – like the standard Golf, almost every physical button has been eliminated in the name of sleekness. Could that seem out of place on this staunchly old-school, non-hybrid GTI? We'll have to wait and see, but return buyers will doubtless be pleased to see the continuation of deeply supportive but still comfortable bucket seats, now with integrated headrests.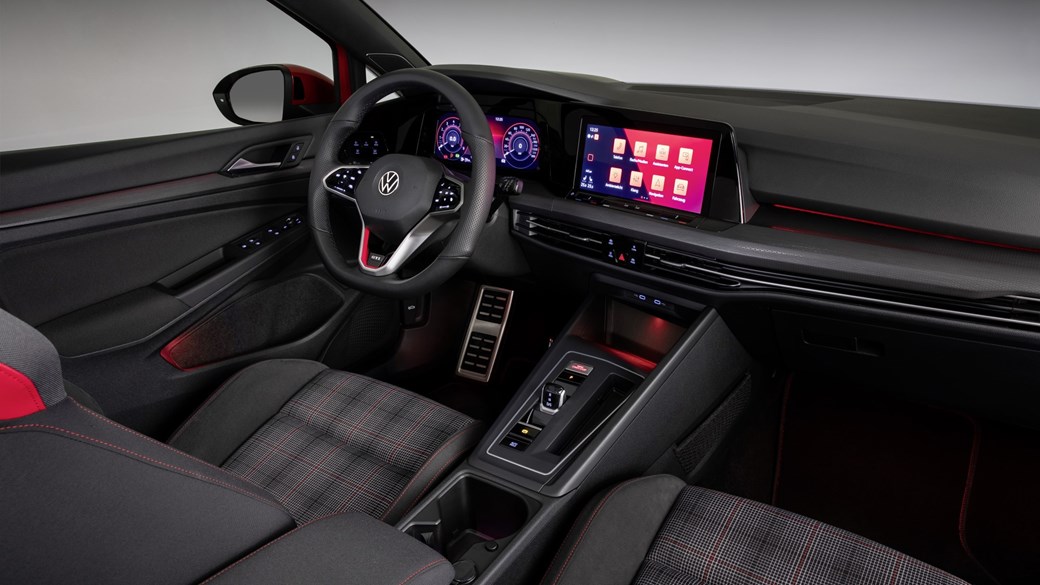 Available optionally is the highest-end dashboard the brand offers – Volkswagen calls this 'Innovision', but it's really a 10.25-inch digital instrument panel blended into a further 10.0-inch infotainment display. All cars get the dials as standard, though only GTE models have that larger central screen without ticking an option box.
Manual cars – yes, you can still get a manual, and we're damn glad of that – still get the iconic golf-ball gearknob. DSG cars, of which VW will sell plenty, get a similarly dinky drive-by-wire selector to the one found in the standard model. Not the most auspicious beginning to a journey, though the brand's making lots of noise about the 'pulsing' lighting around the starter button just before you fire up the engine.
About that engine…
It should come as no surprise that there's a 2.0-litre, four-cylinder turbocharged petrol engine under the hood. Our earlier prediction of 242bhp and 295lb ft was bang on the money. Impressively, these are the same figures as the GTE – including torque, which is a surprise considering the instant response that car has from its electric motor. No word on performance or fuel economy figures just yet.
Dynamically, Volkswagen's promising big things – courtesy of a few clever systems drawn from the standard Golf range. The suspension – McPherson strut front, multi-link rear – can be optioned with DCC adaptive dampers as before, but they're now capable of 'talking' to each other thanks to the 'Vehicle Dynamics Manager'. This manages the lateral movements of the dampers as well as the electronic differential – VW says it'll sharpen up dynamics and increase the spread of maximum comfort to maximum dynamism. That limited-slip differential is standard, by the way – all Mk8 GTIs will have the Mk7's 'Performance Pack' features as standard.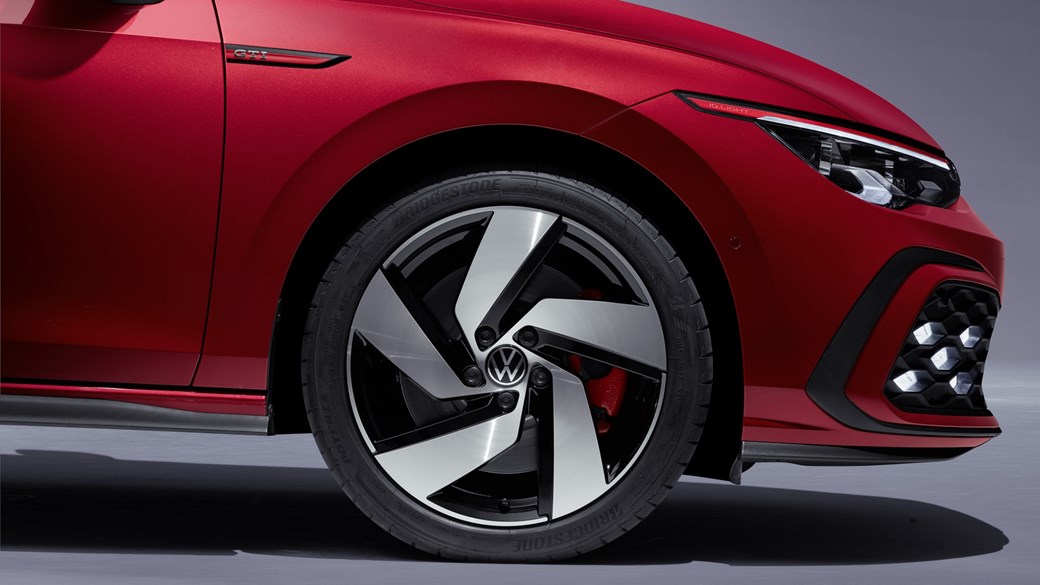 Pre-set driving modes run through Comfort, Eco and Sport, but 'Individual' can be configured to make Sport even sportier. Possibly one to avoid potholes in.
Assisted driving tech is present and correct, with the usual glut of safety systems – as you'd expect. Volkswagen's Travel Assist also appears, capable of driving the car semi-autonomously on motorways and larger roads at speeds of up to 130mph, provided you've an autobahn handy.
Credit: Article from CAR Magazine